---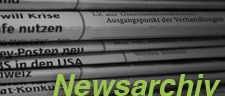 2011
| | | | | | |
| --- | --- | --- | --- | --- | --- |
| Jan | Feb | Mar | Apr | May | Jun |
| Jul | Aug | Sep | Oct | Nov | Dec |
---
2010
| | | | | | |
| --- | --- | --- | --- | --- | --- |
| Jan | Feb | Mar | Apr | May | Jun |
| Jul | Aug | Sep | Oct | Nov | Dec |
---
Newsarchiv: Creating knowledge since 1502
Jahr 2016
New evidence that diversity has a positive effect on biomass production
Communities rich in species are substantially healthier and more productive than those depleted of species. An international group of scientists has solved this long-standing ecological riddle using new scientific techniques for analysing complex data of grassland ecosystems worldwide. The study with participation of the Helmholtz Centre for Environmental Research (UFZ), the German Centre for Integrative Biodiversity Research (iDiv) and the Martin Luther University Halle-Wittenberg is published in the current issue of "Nature". It is the most comprehensive study up to now, which shows this effect in natural, un-manipulated ecosystems.
Steintor-Campus: All moved in
Winter semester saw classes start up on the Steintor Campus for the first time. The campus is Halle University's fourth largest after University Square, the Francke Foundations and Weinberg Campus with its nearby hospital. The idea of concentrating all of the humanities and social sciences departments in one location has been 15 years in the making.
Humboldt Professorship for MLU and UFZ: Tiffany Knight bolsters biodiversity research
Martin Luther University Halle-Wittenberg (MLU) and the Helmholtz Centre for Environmental Research (UFZ) were successful in their nomination for Germany's most highly endowed research award, the Alexander von Humboldt Professorship. Tiffany Knight, a US-American from Washington University in St. Louis, is set to strengthen biodiversity research in Central Germany. The Humboldt Foundation will provide five million euros in funding over five years. Biologist Tiffany Knight is the third Humboldt professor at MLU taking her place alongside physicist Stuart Parkin and Germanist Elisabeth Décultot.
Study finds there is less knowledge about global species diversity than previously assumed
Many of the previous studies on global species diversity are inaccurate. These are the conclusions of an international research group, led by Martin Luther University Halle-Wittenberg (MLU) in collaboration with the German Centre for Integrative Biodiversity Research Halle - Jena - Leipzig (iDiv), which carried out a long-term study on biodiversity in the subtropical forests of China. The study shows that there might be an under- or overestimation of global biodiversity by up to 50 per cent when the survey is based on only a few taxa. The study's findings were published in the journal "Nature Communications".
New ideas for information technology: CRC at Halle university receives 10 million euros from DFG
The third round for cutting-edge research in nanoscience: The collaborative research centre (CRC) 762 "Functionality of Oxide Interfaces" at Martin Luther University Halle-Wittenberg (MLU) will receive 10 million euros in funding for a further four years from the German Research Foundation (DFG). MLU's partners are the University of Leipzig and the Max Planck Institute of Microstructure Physics in Halle.
One and a half tonnes of valuable files: winner of the Humboldt Research Award brings wealth of data to Halle
The data of the oldest German collection of biographical interviews recorded on audio tape was believed to have gone missing years ago. Now it is stored at MLU. The transfer was facilitated by a Humboldt Research Award winner, Prof. Christina von Hodenberg, who is originally from Queen Mary University London and currently working in Halle.
Jahr 2015
"Science" Article: Researchers from Halle discover genetic basis for social behaviour in bees
The social behaviour of bees depends on the highly complex interactions of multiple gene groups rather than on one single gene. This has been established by an international team of researchers that includes scientists from Martin Luther University Halle-Wittenberg. The researchers analysed and compared ten bee genomes in order to identify a common genetic basis for the social behaviour of different species of bees.

DAAD to fund Halle University's exchange programme with China for another four years
The successful student exchange programme between the Institute of Economic Law of the Faculty of Law, Economics and Bussines and China's Southwest University of Political Science and Law in Chongqing will continue to receive another four years of high-level funding. Following a positive evaluation, the German Academic Exchange Service (DAAD) is once again providing the programme with around 500,000 EUR. Under the leadership of Professor Christian Tietje, the institute has supported an exchang­­e programme for students and scientists with the university in China since 2006.
Cutting-edge research: federal government to fund Halle's Centres for Innovation Competence for another five years
The two Centres for Innovation Competence (ZIK) at Halle's university are receiving high-level funding for another five years from Germany's Federal Ministry of Education and Research. The life sciences project "HALOmem - membrane protein structure & dynamics" and the materials science project "Silicon and Light: from macro to nano", in short SiLi-nano, have been in existence since 2009. According to the ministry, the ZIK have developed into a nucleus of top-flight research in a short amount of time. The two ZIK receive around ten million euros in funding from the federal and state governments.
News from the past
Is a fossil from the Geisel Valley the first proof that crocodiles cared for their brood? How were five different crocodile species able to share a single habitat? Finds from the Geisel Valley date back to the Eocene Epoch and still hold many secrets. These secrets are attracting researchers from around the world, including Alexander Hastings. When speaking to Hastings about his work, it quickly becomes clear what has drawn the young palaeontologist from Florida to Halle, of all places.
Against risks and side effects
The new teaching pharmacy was launched at the Institute of Pharmacy at the beginning of winter semester. It took the project's initiator, Prof. Dr. Ralf Benndorf, a year to get it up and running. Now it will gradually be integrated into the education of future pharmacists. Students will learn how to properly advise customers under real conditions but in a protective setting.
Green light for Protein Centre on the Weinberg Campus
On 18 December, the foundation stone for the university's new Protein Centre was laid. Representatives of Saxony-Anhalt's government were present for this event. Protein biochemistry is one of the core areas of research at MLU. The new research centre will cost about 40 million euros and is intended to strengthen direct collaboration among biochemistry, cell biology and medical working groups as well as joint efforts with non-university partners.
The new research building will have about 5,500 m² of floor space. After its completion in 2016, twelve professors from the Natural Sciences Faculties I and II and from the Medical Faculty will conduct research in the building with their working groups.
---
---