---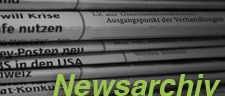 2011
| | | | | | |
| --- | --- | --- | --- | --- | --- |
| Jan | Feb | Mar | Apr | May | Jun |
| Jul | Aug | Sep | Oct | Nov | Dec |
---
2010
| | | | | | |
| --- | --- | --- | --- | --- | --- |
| Jan | Feb | Mar | Apr | May | Jun |
| Jul | Aug | Sep | Oct | Nov | Dec |
---
Newsarchiv: Creating knowledge since 1502
Jahr 2013
News
Zur dritten Internationalen Woche an der Martin-Luther-Universität vom 14. bis 16. Mai 2013 sind Interessenten herzlich eingeladen. Veranstaltet durch das Internationale Büro umfasst das Programm eine globale Themenpalette von Workshops für internationale Studierende über Sprachschnupperkurse bis hin zu Fachdiskussionen. Zum aktualisierten Programm:
News
Das "Aktionsbündnis MLU" und "Halle bleibt" rufen alle Studierenden und Angehörigen der MLU auf, am 15. Mai ab 17:30 Uhr auf dem Universitätsplatz für eine ausfinanzierte und leistungsfähige Universität mit Medizin und den Erhalt der Studien- und Arbeitsplätze zu demonstrieren.
News
Gute Stimmung, jede Menge Information und ganz viel Sonne gab es am 16. März 2013 beim Hochschulinformationstag (HIT) auf dem Campus der Martin-Luther-Universität. Hunderte Studieninteressierte besuchten Vorträge, Instituts- und Stadtführungen und ließen sich an Info-Ständen zum Studienangebot beraten. Fast doppelt so viele Interessenten wie im Vorjahr verfolgten die Angebote im Online-Stream.
Jahr 2012
Halle's university celebrates International Week
Martin Luther University Halle-Wittenberg (MLU) will be gazing out across international borders at the beginning of May: The International Office at MLU is hosting an International Week from 8 to 10 May. For the first time 9 May will be celebrated as a lesson-free "Dies Internationalis". The programme will include a range of global topics from workshops to trial language lessons and expert discussions.
Protein time travel for researchers in Halle
5 March 2012. Without knowing it, they took a trip back in time to more than three billion years ago. Biochemist Milton T. Stubbs and his team at Martin Luther University Halle-Wittenberg observed a reaction within an enzyme which, in a similar form, can be encountered in all organisms. The conclusions they have drawn: it is an archetype which existed when life first formed. These new findings could aid in the development of antibiotics – and have already led to the publishing of a VIP "Very Important Paper" in the journal "Angewandte Chemie International Edition".
Women's nutritional habits better for the environment
When it comes to the question of which eating styles are kinder on the environment, women come off far better. This has been shown by studies carried out by scientists at the Martin Luther University Halle-Wittenberg, Germany.
Jahr 2011
Honorary doctorate awarded to Romano Prodi
The Faculty of Law and Economics at Martin Luther University Halle-Wittenberg (MLU) awarded Romano Prodi an honorary doctorate on 16 November 2011 in recognition of the contribution the former Prime Minister of Italy and President of the European Commission has made to economic science through his research and political work.
---
---