---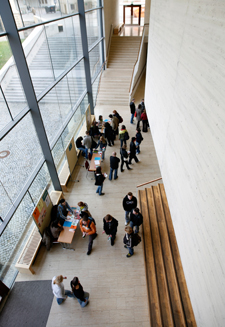 Creating knowledge since 1502
Our commitment to refugees
Martin Luther University Halle-Wittenberg supports refugees eager to study by providing the following counselling services and measures.[more]
Sweat bees on hot chillies: native bees thrive in traditional farming, securing good yield
Farming doesn't always have to be harmful to bees. On the contrary, even though farmers on the Mexican peninsula of Yucatán traditionally slash-and-burn forest to create small fields, this practice can be beneficial to sweat bees by creating attractive habitats. The famers profit as well since they depend on these insects to pollinate their habanero chillies. This discovery by an international team of authors, headed by Martin Luther University Halle-Wittenberg (MLU), was recently published in the international "Journal of Applied Ecology".
Psychology: playful people are at an advantage
Adults can positively utilise their inclination towards playfulness in many situations. They are good at observing, can easily see things from new perspectives, and can turn monotonous tasks into something interesting. At the same time, playfulness should not be equated with humour. Instead we need a new vocabulary to describe it, write psychologists from Martin Luther University Halle-Wittenberg (MLU) in the current issue of the international journal "Personality and Individual Differences".
"Nature": No single protein determines queen development in honeybees
The proteins in the larval food of honeybees are not specific determinators to make the larvae grow into queens – that includes the protein royalactin, which had been previously claimed to be the "queen determinator" in a highly regarded study in 2011. This is the conclusion of a study carried out by researchers at Martin Luther University Halle-Wittenberg and published in the internationally renowned journal "Nature".
Heisenberg Professorship strengthens Oriental Research at the University of Halle
Martin Luther University Halle-Wittenberg (MLU) has filled another Heisenberg Professorship through the support of the German Research Foundation (DFG). The internationally renowned researcher of Oriental Christian Studies, Dr Cornelia B. Horn, will assume the professorship "Language and Cultures of the Christian Orient" starting in winter semester 2016/17. The appointment of Dr Horn by Rector Professor Udo Sträter further strengthens the unique position of the Institute of Oriental Studies at MLU which examines the Islamic, Oriental-Christian and Jewish traditions as part of its research and teaching.
Heisenberg Professorship strengthens biosciences at the University of Halle
Developmental geneticist Christian R. Eckmann has received a Heisenberg Professorship from the German Research Foundation (DFG). The internationally recognised scientist, who previously received funding from the DFG as a Heisenberg fellow, has been conducting research at Martin Luther University Halle-Wittenberg (MLU) since 2015. His research focuses on molecular control mechanisms that govern the generation and differentiation of germ cells. The professorship "Developmental Genetics", which Eckmann will hold starting on 1 October, will be funded by the DFG until 2020; he will then be taken on by MLU on a permanent basis.
Welcome to the club: a network for newbies
Employees and professors who are new to Martin Luther University don't get a freshers party – at best, they are actively supported at their work place. However, at the end of the workday, these newcomers usually have to fend for themselves. This is now set to change. In November, 25 members of the university founded the Newcomers' Club.
---
---